News
We work in compliance with the safety measures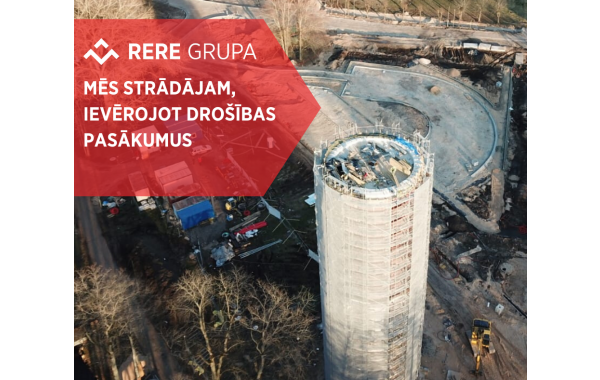 The team of RERE Group monitors the situation on a daily basis to respond immediately to the restrictions imposed as a result of the pandemic, affecting the current work of our employees and the overall company.
We are responsible: health and safety come first
We continue to work, but we also observe the maximum security measures. We comply with the regulations, recommendations and guidelines of the government and competent institutions because this is the sole way in which we can protect the health and safety of our employees and continue construction work. We are aware that every one of us is the most important element in the overall chain of safety.
Our work is safe: work on construction sites continues
We encourage remote work and meetings in offices and construction site offices. We work on construction sites in accordance with the action plan of the company "Labour Protection Measure Plan for the Control of Coronavirus Causing COVID-19 Infection on Construction Sites", encouraging our employees, subcontractors and cooperation partners to be responsible towards their own and their colleagues' health.
The emergency situation has also affected the supply of materials and traffic at the sites. We are working on alternative ways to rearrange the work according to the current situation. We have successfully started cooperation with customers and institutions, remotely working with foreign partners.
Thanks to every employee!
We are all facing the same emergency situation and, therefore, it is truly important to support each other. We appreciate the responsible approach of our colleagues. We would like to thank everyone - both those working remotely and those who are on our front lines - construction sites.