News
Temporary carriageway of the Loka Main Road is constructed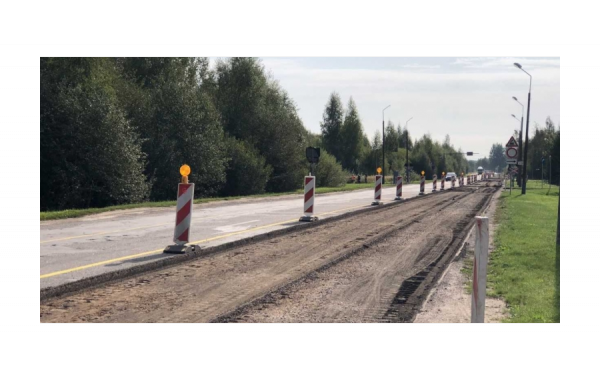 In this year, the reconstruction works of two stages of Loka Main Road will take place – from Kalnciema Road to Bērzu Road and from Rubeņu Road to the administrative border of the city. It has to be emphasised that, for the time being, there are no significant restrictions for drivers because traffic is still ensured on Loka Main Road.
For the convenience of drivers, traffic in the stage from Kalnciema Road to Bērzu Road will be organised on temporary carriageways, which are constructed on both sides of Loka Main Road, whereas in the stage from Rubeņu Street the existing carriageway is narrowed and is still used for traffic. As a result, the speed limit is decreased – from 70 km/h to 50 km/h.
The website www.jelgavasvestnesis.lv already informed that the reconstruction of Loka Main Road has been started along its entire length – in total 4.8 kilometres. The reconstruction works will be commenced with the construction of rainwater drainage networks in two stages of the road, which will be followed by other works. During the implementation of Loka Main Road reconstruction project, it is planned to renovate the transit street, construct four roundabouts, reconstruct engineering communications, lighting of streets as well as the overpass across the railway. It is also planned to construct pedestrian walkways and bicycle paths, parking lots, recreation sites with benches, bicycle stands and garbage bins, restore public transport stops and create a recreation place near the city border, installing a map for tourists.
Jelgava City Municipality reconstructs Loka Main Road through attracting EU funding for the integration of national significance centres into the unified Trans-European Transport Network (TEN-T). The contract on the reconstruction of Loka Main Road between Jelgava City Council and the general partnership "RERE vide – Hidrostatyba" was concluded in July. The total project costs (including VAT) constitute 21,679,350.03 euros, including the co-funding of EU Cohesion Fund equal to 12,004,303 euros, 564,527.03 euros – state budget grant for the municipality, and 9,110,520 euros – co-funding of Jelgava City Municipality.
Video: Māris Martinsons/"Jelgavas Vēstnesis"